What results are women getting from Insanity workouts?
If you're a woman and you are considering getting the Insanity discs you want to know how effective they are.
And if you've already started the Insanity workouts you want to know how your results measure up to those of other women or what you can expect further into the program.
What results are women hoping to get?
It seems that most women are wanting to lose weight but are far more concerned about how they look then exactly what the scales say.
So, if you stay the same weight but drop a dress size and look more toned and a better shape then it seems most women will be happy with that.
In actual fact most women who use the Insanity workout for the full 60 days will achieve a much better looking body AND will lose weight too! That's a great result!
Here are the results that some women have had with Insanity.
This is a video showing results before, during and after the 60 day cycle of Insanity.
Stunning results from an Army wife who worked out for 12 months while her husband was away in Afghanistan!
But it takes hard work: and this is just the fit test!!
Before and After pictures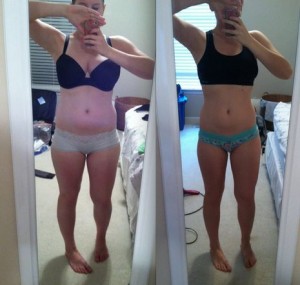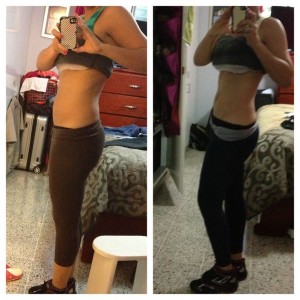 Much more toned!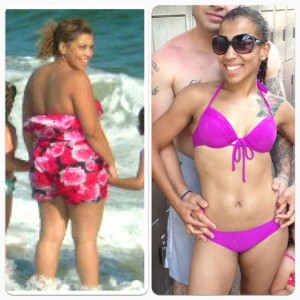 Looking beach-ready now!
Does Insanity give good results after pregnancy?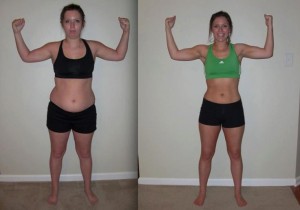 Brittney S. lost 27 LBS and 10″ off her waist!
"Insanity changed my life. After I had my daughter, I thought I would never see my body the way it used to be…but Insanity pushed me through every plateau, and delivered results beyond my wildest dreams. I look even BETTER than I did before. I can wear the clothes I wore before, with a new accessory – a SMILE!"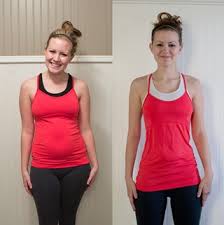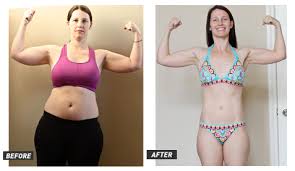 Well it certainly looks as though it does!!
And here are some things that women say about their Insanity results
"I just completed the full insanity program this week. I wasn't comfortable taking pictures when I first started, but really wish I had them now!. I lost about 2 inches from my chest, waist & hips from doing insanity and definitely feel like I'm the most fit I've ever been. I actually haven't weighed myself since starting, but everyone I know has been able to notice a difference & I am so happy that I stuck with it!"
"It's mindblowing! My belly fat that was so persistent before is melting away in record speed now! This training is better than anything else I'd ever tried before so far. "
"I'm on week 5 and recovery week. Not seeing lbs dropping but do see differences in the mirror, my shoulders are more sculpted, i have little biceps and generally feel more toned. "
"I didn't lost as much weight as I would like BUT the body has definitely toned up!!"
"I'm almost done with week 3 of Insanity. I don't think it has been hard to stick to, because of the variety of workouts. Although I have taken a few extra days off due to soreness. I've actually gained two pounds since starting the program, but I've lost about 4 inches overall so far."
Is this for YOU?
INSANITY DVD Workout – Base Kit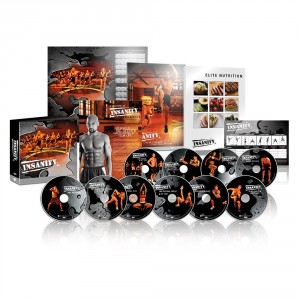 Complete set includes a nutrition guide, calender to track your progress, and 10 intense DVDs for a great workout
Your personal trainer Shaun T will push you past your limits with 10 workout DVDs packed with plyometric drills
Each workout keeps you constantly challenged as you alternate between aerobic and anaerobic intervals performed at your max
Perform long bursts of maximum-intensity exercises with short periods of rest
Free online support tools help you stay motivated with round-the-clock access to fitness experts and peer support
Click Here to See Pricing, Ratings, and Reviews on Amazon.com
INSANITY DVD Workout – Deluxe Kit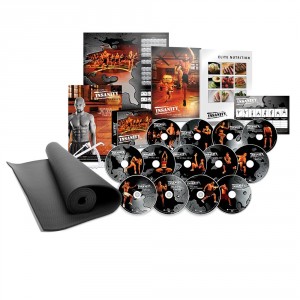 Get more insane results by upgrading to the INSANITY Deluxe kit
Includes the 10 INSANITY DVD workouts and the 4 fitness and nutrition tools found in the INSANITY Base kit
Deluxe kit comes with 3 additional advanced workouts
Deluxe kit also includes a professional-grade jump mat and a body fat tester
Click Here to See Pricing, Ratings, and Reviews on Amazon.com